Governor's Hall
The building known as Governor's Hall at the Kamp has undergone many changes over the years. (Shown at right is the plaque noting the building's dedication to the district's Past Governors.)
Originally an open pavilion attached to the north end of the dining hall, Governor's Hall served as a wet weather refuge and as additional eating area.
For many years the building's west wall was being filled in with commemorative bricks purchased by Kiwanis clubs and individuals who wanted to support the Kamp by making a donation and placing a permanent memorial there by participating in the District Foundation's Brick Program. You also can access a searchable database of the bricks which have been purchased as part of the program.

| | | |
| --- | --- | --- |
| The pictures at right show how the building appeared in September of 1997 after the enclosure project had begun. The picture on the left shows the east end and the picture on the right shows the west end of the hall. The open areas and the metal structure roof can be seen. The openings were closed and the roof structure was replaced in the projects that took place in 2002. | | |
The building was completely enclosed when the remaining areas at the top of the side walls were filled in and what had been the open east end was completed. With doors and windows installed, the building now serves as an extension of the dining hall and also is available for many Kamp and other activities. At right, visitors to the Kamp look over the commemorative bricks on the west wall.

At left is one of three murals painted on the wall inside the building in July of 2003. The mural was done by Splashes of Hope, a non-profit organization of artists who paint murals on the walls of institutions responsible for physical and mental health care. The creations are designed to stimulate the healing process by giving children a soothing visual focus.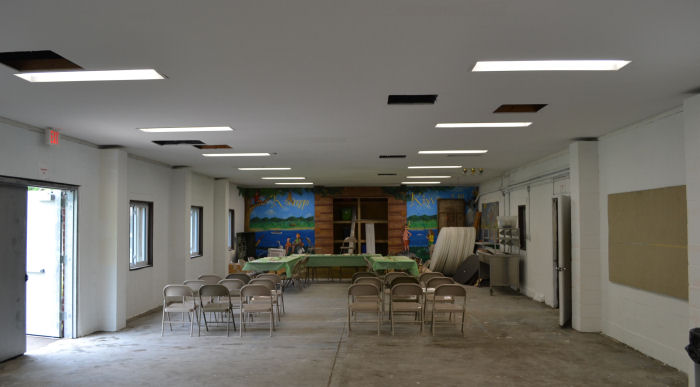 The building continues to be improved to make it useful for other functions. Above, in a picture taken in 2015, progress is being made to install a ceiling and air conditioning in the building.